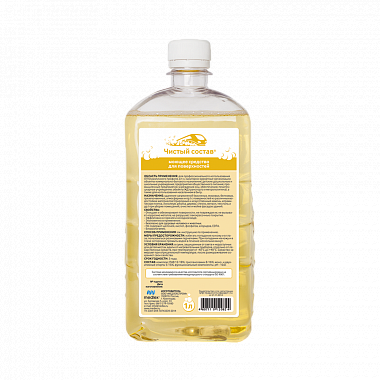 Chistyi sostav® for the surfaces
Professional super concentrated detergent for removal of contaminants (oil, grease, protein, mud, weather, etc.) in the process of indoor cleaning, cleansing and washing of buildings facades.
Packing type
Bottles with capacity of 1l, 5l
Contact
Description
Properties:
concentrated detergent;
cleans and degreases surfaces without damaging them; does not cause corrosion of metal; does not deteriorate the paintwork.
effective both in hot and cold water.
sparing in consumption.
safe for human and animal health.
does not contain alkalies, acids, phosphates, chlorides, EDTA.
biodegradable.
Instructions for use: see instruction for use.
Expiration date: 3 years
Package: 1000 ml (10 pieces per box);
5000 ml (3 pieces per box).
Purpose
Up