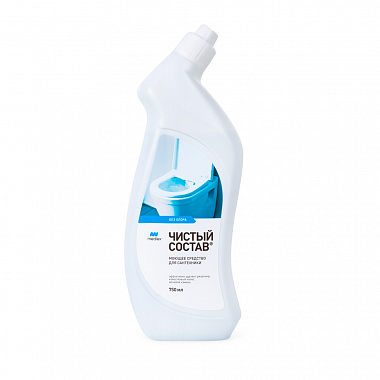 Chistyi sostav® for plumbing
Professional detergent for removal of stubborn stains (rust, lime scale, urolith, etc.) from bathroom fixtures and surfaces during daily cleaning.
Packing type
Bottle with a capacity of 750 ml
Contact
Description
Properties:
cleans bathroom fixtures and surfaces without damaging them;
removes unpleasant smells;
has antibacterial effect;
sparing in consumption;
biodegradable.
Instructions for use: concentrate (bathroom fixtures): Apply evenly to the surface to be cleaned. Use brush if necessary. Rinse thoroughly with water in 5 minutes; solution (surfaces): dilute 50 ml of detergent in 1l of water. Treat the surface with solution. Rinse with clean water in 5 minutes.
Expiration date: 3 years
Package: 750 ml (14 pieces per box).
Purpose
Up