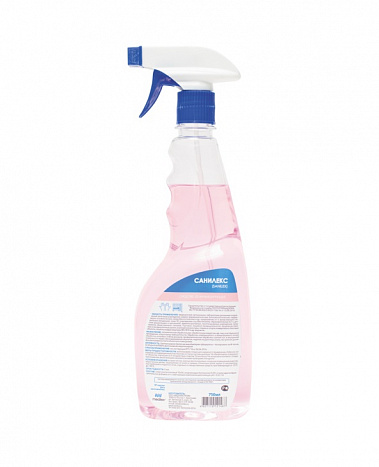 Sanilex®
Skin antiseptic and agent for quick disinfection. Durable effect: within 4 hours. Active ingredients: isopropyl alcohol 70%, chlorhexidine bigluconate 0.2%.
pH
5.9±1.0
Packing type
Bottles with a capacity of 100 ml (spray tube),200 ml (spray tube), 750 ml (with trigger sprayer), 1l, euro-bottle 1l.
Contact
Description
Active ingredients:
Isopropyl alcohol - 70.0%, chlorhexidine bigluconate - 0,2% and other functional additives, including components that soften hands.
Microbiological activity:
gram-negative and gram-positive bacteria (including causative agents of tuberculosis – tested on Mycobacterium terrae; causative agents of healthcare acquired infections – tested on Pseudomonas aeruginosa);
fungi of the genus Candida and Trichophyton;
viruses (including causative agents of parenteral hepatitis В, С, D, HIV infection, hepatitis A, herpes, influenza (among them avian and swine), coronavirus - causative agent of atypical pneumonia, rotaviruses, adenoidal-pharyngeal-conjunctival viruses, causative agents of ARVI, poliomyelitis);
Has a prolonged antimicrobial effect for 4 hours after surgical scrub.
Expiration date: 5 years.
Package:
100 ml with push-button pulverizer (28 pcs. per box);
750 ml with trigger sprayer (12 pcs. per box);
1000 ml (10 pcs. per box).
Purpose
Up