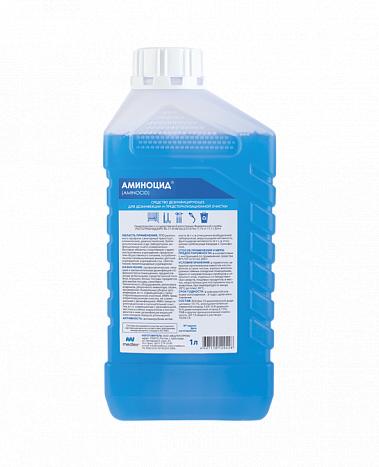 Aminocid®
Concentrated disinfectant for disinfection and pre-sterilization cleaning. Active ingredients: tertiary alkylamines 10.1%, QAC 9,75%
pH of 1% aqueous solution
10.0±1.0
Packing type
Bottles with a capacity of 1l, 3l, 5l.
Contact
Description
Active ingredients:
N,N-bis(3-aminopropyl)dodecylamine (10.1%), alkyldimethylbenzylammonium chloride (3.6%), N,N-didecyl- N,N-dimethylammonium chloride (6.15%).
Microbiological activity:
bacteria (including causative agents of tuberculosis);
viruses (tested on poliomyelitis virus, type I );
pathogenic fungi (including fungi of the genus Candida and Trichophyton)
Expiration date: 5 years.
Shelf life of working solutions: 28 days.
Package: 1000 ml (10 pcs. per box);
3000 ml (3 pcs. per box);
5 l (3 pcs. per box).
Indicator strips for express control of the concentration of working solutions: 100 pcs. / Pack.
Purpose
Up