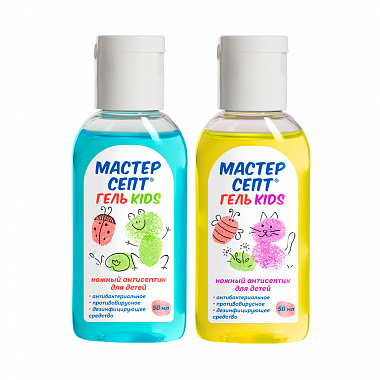 Mastersept® gel kids
Skin antiseptic for children. Alkyldimethylbenzylammonium chloride 60,0.
Packing type
Bottle with a capacity of 50 ml
Contact
Description
Active ingredients:
Alkyldimethylbenzylammonium chloride (60,0 ± 2,0%), emollient and moisturizing components (extracts of chamomile, string, glycerin) and other functional additives.
Microbiological activity:
gram-positive and gram-negative bacteria;
fungi-causative agents of candidiasis and trichophytosis;
viruses (including causative agents of parenteral hepatitis and HIV infection).
Has a prolonged antibacterial effect for at least 3 hours.
Expiration date: 3 years.
Package: 50 ml with push-button pulverizer (72 pcs. per box).
Purpose
Documents
Up