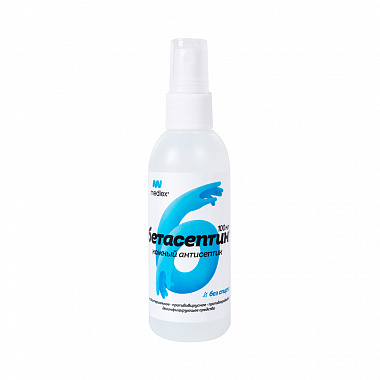 Betaseptin®
Skin antiseptic Without alcohol.
Packing type
Bottles with a capacity of 100 ml (spray tube), 180 ml (with foam generator), 500 ml (pump dispenser)
Contact
Description
Active ingredients:
N,N-bis(3-aminopropyl)dodecylamine (0.17%), alkyldimethylbenzylammonium chloride (0.25%), N,N-didecyl- N,N-dimethylammonium chloride (0.20%). Contains ingredients that soften the hands.
Has a prolonged antimicrobial effect for at least 3 hours.
Expiration date: 3 years.
Package: 100 ml with push-button pulverizer (28 pcs. per box);
180 ml with foam dispenser (21 pcs. per box);
500 ml (10 pcs. per box).
Purpose
Documents
Up