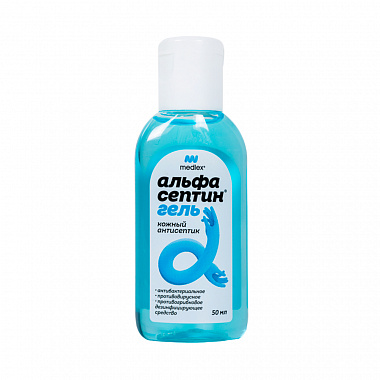 Alfaseptin® gel
Skin antiseptic. Active ingredients: isopropyl alcohol 70%.
Packing type
Bottle with a capacity of 50 ml
Contact
Description
Active ingredients: isopropyl alcohol (70.0%).
Microbiological activity:
gram-negative and gram-positive bacteria (except causative agents of tuberculosis - tested on Mycobacterium terrae);
viruses (including causative agents of parenteral hepatitis В, С, D, HIV infection, hepatitis A, herpes, influenza (among them of type A - avian and swine), adenoidal-pharyngeal-conjunctival viruses, herpes viruses, cytomegaloviruses;
fungi of the genus Candida.
Expiration date: 3 years.
Package: 50 ml (72 pieces per box).
Purpose
Documents
Up